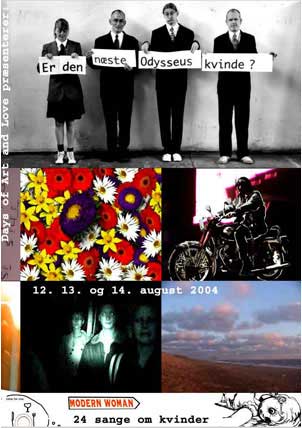 The artist Tine Louise Kortermand has collected stories from women all over Scandinavia and Europe into a new "Odyssey".
– An "Odyssey" about women's achievements and exploration of life – about their path through life ... what they had to overcome to become what they are today!

The stories are performed by Tine Louise Kortermand, inspired by the way Homers "Odyssey" was originally sung or recited to the audience by a troubadour. For the first time all 24 songs will be presented in a large light and video installation.

The audience will be surrounded by scenery of living pictures. The videos are a mix between animation and other scenes recorded and edited by Tine Louise Kortermand. The songs are as different as the stories of the women reflected in the music – from poetic jazz to country, poetry slam, rock'n'roll and post punk.

Tine Louise Kortermand perform all songs live in an one hour performance with Robert Cole Rizzi on guitar and computer, Niels Ryde on bas and Chano Olskær on drums.
Genre wise the project lies somewhere between Lieder tradition, video installation, concert and art performance.
Is the Next Odysseus a Woman?
Review by Marianne Koch, Fyns Stiftstidende, 14 August 2004


Tine Louise Kortermand is an artist - plus songwriter, plus singer
plus photographer, plus animator, plus instructor, plus brave.
For brave you must be if you one woman alone put up to
perform 24 songs about women in a large raw storeroom in
Havnegade in Odense.

However it's fun to be here. The audience is equipped with a small
song book and a flashlight and can go ahead align themselves in large
inflatable armchairs.
What will happen?
Kortermand calls her performance "a travel narrative about how
Scandinavian and European woman became modern".
But what does it mean?

The question is answered along the way in the one hour-long session.
The 3 musicians Niels Ryde (bass), Robert Rizzi (guitar and computer
sounds) and Chano Olskær (drums) take their seats. The many videos
projected onto three walls turns on - and suddenly little slim Kortermand
on the floor. Dressed in adult men's jacket, tie and tennis shoes with girly
knees she sings 24 most individual songs about European female terms
past, present and future.
Some are raw like the Danish Maybritt motorcycle and Finnish Marketta,
whose voice comes up in bubbles on the wall, while the sound rocks on
high heels and the flowers are springing up everywhere around us.
Some are gentle like Signe who is Christian or Dagny, who loves her grandma
all performed in a mix of Bob Dylan and Joni Mitchell.

24 highly personal songs in their form, content and musical tone, carried up
by a very responsive band. However, it is something - and this is with great
pleasure to conclude that this one hour in the company of Odysseus women
was a great and awesome experience.

Choose who stands in the eternal dilemma between motherhood
and career. There is no solution, but it always helps to see a woman who
dares it all with an undertone of both gentle and rough laughter –
like Tine Louise Kortermand.



Danish Radio, P2 Culture news (in danish) >>>


Times & places:

• "Reality 10:55 Odense – situationelle and performativ interactions",
Brandts Kunsthal, søjlerummet, Odense/Denmark, 2006
• "Wonder of the prairie", Performance Festival, Mannheim/Germany, 2005
• "Odense Internationale Performance Festival". Rosenbæk Huset, Odense/Denmark, 2005
• Langeland efterskole, Rudkøbing/Langeland/Denmark, 2004
• Projectspace "Days of Art and Love", Odense/Denmark, 2004
• "BIPAF" and "KIPAF". Music and performance festivals, South Korea, 2003

• Artists on the Road tour, May til June 2002:
"Vor Frue Kirke", Enghave Plads and "KOMPONENT", Copenhagen.
"Konstakuten", Stockholm/Sweden.
"Muu Gallery", Helsinki/Finland.
"Westwerk", Hamburg/Germany.
"N/T areal", Basel/Switzerland.